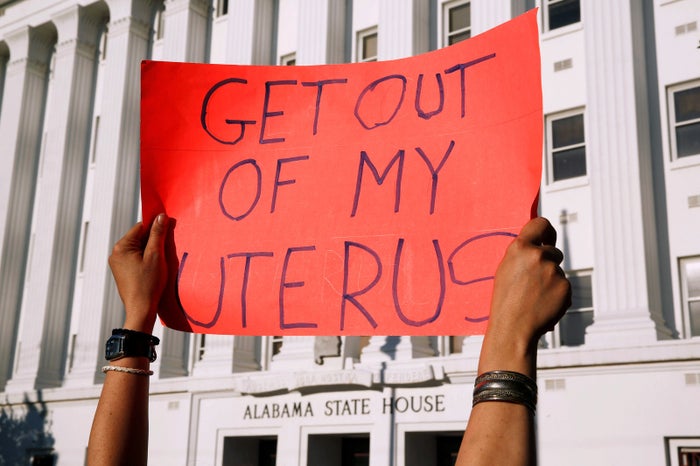 Christopher Aluka Berry / Reuters
Abortion rights advocates protest as the Alabama Senate votes on the strictest anti-abortion bill in the United States, in front of the Alabama State House in Montgomery, May 14.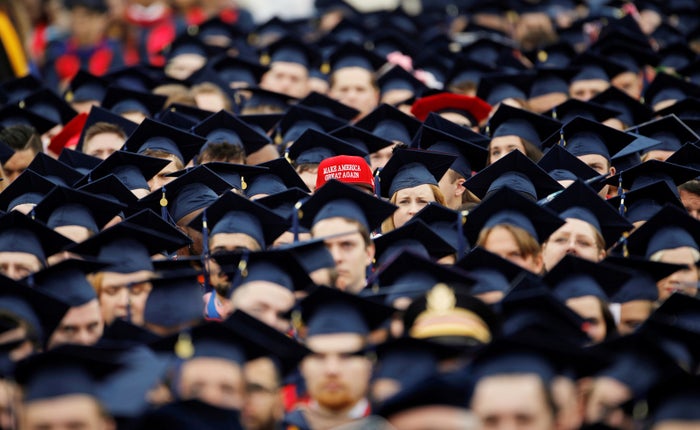 Jonathan Drake / Reuters
A graduate wears a «Make America Great Again» hat amid a sea of mortarboards before the start of commencement exercises at Liberty University in Lynchburg, Virginia, May 11.
David Delgado / Reuters
Gwen Carr, Eric Garner's mother, speaks to the media during a break at the NYPD disciplinary trial of police officer Daniel Pantaleo in relation to Garner's death, at 1 Police Plaza in Manhattan, May 13.
Paul Ratje / AFP / Getty Images
José, 27, with his son José Daniel, 6, is searched by Frank Pino, a US Customs and Border Protection agent, May 16 in El Paso, Texas. The father and son spent a month trekking across Mexico from Guatemala.
Brian Snyder / Reuters
«IAAF Firefighters for Biden» listen as Joe Biden, a Democratic 2020 US presidential candidate and former vice president, speaks during a campaign stop in Hampton, New Hampshire, May 13.
Yana Paskova / Getty Images
Protesters gather as Mayor Bill de Blasio holds a Green New Deal rally at Trump Tower in New York City, May 13.
Chip Somodevilla / Getty Images
Daniel Elwell, acting administrator of the Federal Aviation Administration, (left) talks with Michael Stumo and Nadia Milleron, the parents of Ethiopian Air crash victim Samya Stumo, before a hearing of the House Transportation and Infrastructure Committee's Aviation Subcommittee about the Boeing 737 Max airplane in Washington, DC, May 15.
Morteza Nikoubazl / Morteza Nikoubazl/SIPA/REX/Shutterstock
An Iranian protester pretends to punch a man wearing a mask depicting President Donald Trump during an anti-US protest in Tehran, May 10.
Christopher Furlong / Getty Images
Veteran Bryan Woolnough, 96, prepares to lay a wreath at the Battle of Monte Cassino memorial during a commemorative ceremony marking the 75th anniversary of the «Forgotten Campaign» at the National Memorial Arboretum, in Stafford, England, May 11.
Mikhail Klimentyev / AP
Russian President Vladimir Putin celebrates his goal during an ice hockey game at Bolshoy Ice Dome in the Black Sea resort of Sochi, May 10.
Francois Guillot / AFP / Getty Images
Members of the activist group Extinction Rebellion spill fake blood on the steps of the Trocadéro in Paris, during a demonstration to call attention to the decline of biodiversity, May 12.
Hektor Pustina / AP
Flames are seen behind a police formation during an anti-government rally in Tirana, Albania, May 11.
Mauro Pimentel / AFP / Getty Images
A man flutters a Palestinian flag next to a burnt bus during a protest organized by the National Students Union in Rio de Janeiro, May 15.
John Wessels / AFP / Getty Images
Health workers carry a coffin containing a victim of the Ebola virus in Butembo, the Democratic Republic of the Congo, May 16.
John Wessels / AFP / Getty Images
Elizabeth, a South Sudanese refugee, poses inside a refugee transition camp in Aru for South Sudanese people who have just arrived in the Democratic Republic of the Congo, May 12.
Oka Hamied / AFP / Getty Images
An Indonesian woman prepares meals for Muslims breaking their fast during the holy month of Ramadan, at the Jogokariyan Mosque in Yogyakarta, May 11.
Mohamad Torokman / Reuters
A Palestinian uses a ladder to climb over a section of the Israeli barrier as he tries to make his way to attend the first Friday prayers of the holy fasting month of Ramadan in Jerusalem's Al-Aqsa Mosque, near Ramallah in the Israeli-occupied West Bank, May 10.
Toby Melville / AFP / Getty Images
Britain's Prince Harry, Duke of Sussex, plays with a patient as he visits the Oxford Children's Hospital in southern England, May 14.
Fernando Vergara / AP
Arelys Pulido holds her 2-month-old daughter Zuleidys Antonella Primera after she had her feet prints taken for her birth certificate in Cúcuta, Colombia, May 2.
Kevin Lamarque / Reuters
Double amputee dog Cora Rose balances on her hind legs to watch Zach Skow repairing her cart on a street in Washington, DC, May 15. Cora Rose serves in a prisoner therapy program founded by Skow called «Pawsitive Change» in California.
Stephane Mahe / Reuters
Bill Murray poses on the red carpet of the 72nd Cannes Film Festival in Cannes, France, May 15.
Gonzalo Fuentes / Reuters
The Eiffel Tower is illuminated during a light show to celebrate its 130th anniversary in Paris, May 15.