"Let's meet face to face and you tell me I'm not worthy," Ms Beck said to
Business Insider
.
"Transgender doesn't matter. Do your service."
The 20-year veteran was deployed in Bosnia, Iraq and Afghanistan, receiving the Purple Heart and Bronze Star for her service.
"A very professional unit with great leadership wouldn't have a problem," she said.
"I can have a Muslim serving right beside (late conservative televangelist) Jerry Falwell and we're not going to have a problem. It's a leadership issue, not a transgender issue."
The Pentagon was in the middle of a study of how transgender troops would affect other service members when Trump made the policy announcement on Twitter overnight.
"After consultation with my generals and military experts, please be advised that the United States Government will not accept or allow transgender individuals to serve in any capacity in the US military," Trump tweeted.
"Our military must be focused on decisive and overwhelming victory and cannot be burdened with the tremendous medical costs and disruption that transgender in the military would entail. Thank you."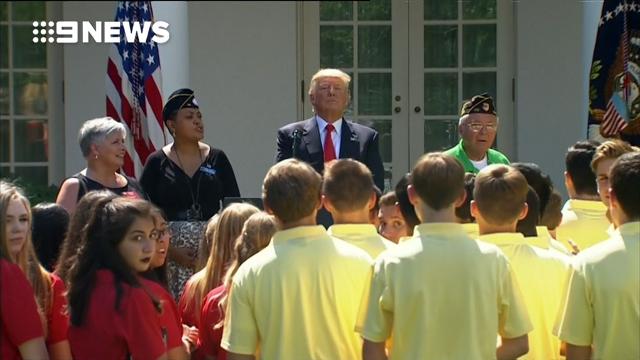 The Pentagon was due to release a report on transgender troops in June, but delayed it for another six months to conduct more research.
It is not known which generals and military experts Trump consulted with.
Former congressman Brad Carson worked on the Obama-era policy to allow transgender troops to serve openly, and said none of the Joint Chiefs of Staff were in favour of a full ban, the Washington Post reports.
Trump's announcement came as a shock to his Republican colleagues in Congress, with some of the most conservative members coming out in opposition to the ban.
"You ought to treat everybody fairly and give everybody a chance to serve," Alabama Senator Richard Shelby told CNN.
"I don't think we should be discriminating against anyone," Utah senator Orrin Hatch said.
"Americans who are qualified and can meet the standards to serve in the military should be afforded that opportunity," Iowa's Joni Ernst said through a spokeswoman.
Senator John McCain
said it was "yet another example of why major policy announcements should not be made via Twitter".
"There is no reason to force service members who are able to fight, train, and deploy to leave the military — regardless of their gender identity," he said.
Trump had been facing pressure from conservatives to prevent service members from getting transition procedures paid for by taxpayer funds.
But few were calling for an outright ban on transgender troops in the military.
A study from the
RAND Corporation
said only a tiny fraction of transgender service members would undergo transition that would impact their ability to deploy.
"Each year, between 29 and 129 service members in the active component will seek transition-related care that could disrupt their ability to deploy," the 2016 study found.
"Even upper-bound estimates indicate that less than 0.1 percent of the total force would seek transition-related care that could disrupt their ability to deploy."
The study concluded that allowing transgender people to serve in the military would increase health care costs by 0.04 to 0.13 percent.
"To choose service members on other grounds than military qualifications is social policy and has no place in our military," Barack Obama's Secretary of Defence Ash Carter said.
"There are already transgender individuals who are serving capably and honourably.
"This action would also send the wrong signal to a younger generation thinking about military service."
The ban on transgender people serving in the military was only overturned by the Obama Administration in June last year.
There are an estimated 11,000 transgender people serving in the military, all of whom would be discharged as a result of Trump's ban.