A London couple has been left covered in their own blood after they were set upon a group of young men in what the city's mayor is calling a "misogynistic hate crime".
Graphic warning: Some readers may find the images below offensive
Melania Geymonat, 28, and her girlfriend Chris were approached by the men on the top deck of a bus while on the way to Camden Town on the evening of May 30,
the BBC reports
.
Upon learning they were a couple, the men asked Ms Geymonat and her girlfriend to kiss, making crude gestures.
"To ease the situation I tried to make some jokes, like Chris wasn't understanding because she didn't speak English," Ms Geymonat told the BBC.
"They started throwing coins. The next thing I know Chris is in the middle of the bus and they are punching her.
"So I immediately went there by impulse and tried to pull her out of there and they started punching me."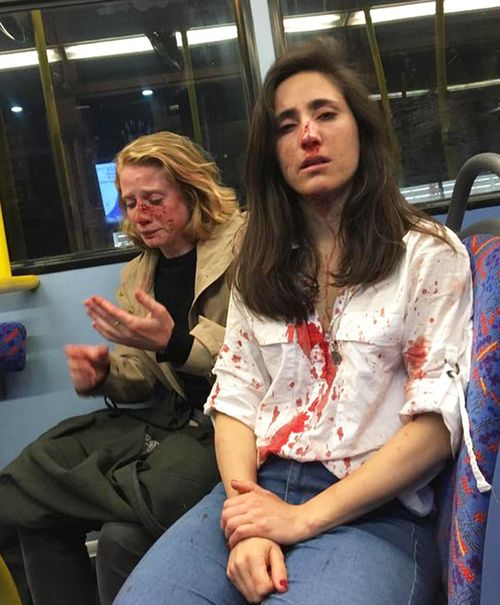 The women were sitting on the top deck of a London busy on their way home on a night out when they were viciously set upon a group of young men. (Melania Geymonat)
Both women received injuries to their faces requiring treatment in hospital.
They are currently being questioned at separate police stations. Police are appealing for any information and for witnesses to come forward.
"This was a disgusting attack on two women who appear to have been picked out and targeted by a group of youths," Detective Superintendent Andy Cox said.
"A number of active enquires are in hand to trace other individuals suspected to have been involved in the incident.
"Lots of people will understandably be outraged by this attack.
"Our efforts to trace all the suspects involved and bring them in for questioning will be relentless."
London Mayor Sadiq Khan has called the attack a "disgusting, misogynistic hate crime".
"Absolutely shocking," Labour Party leader Jeremy Cobyn added on Twitter.
"Solidarity to Melania and Chris, and to all in the LGBT+ community for everything they endure for simply being who they are".
Homophobic attacks in London during 2018 have almost doubled since 2014, London Metropolitan Police report.
June marks the beginning of LGBT Pride month, which culminates in the Pride in London parade on July 6.