Kenzo Tribouillard / AFP / Getty Images
Megan Rapinoe has had a big week by anyone's standard.
After making headlines for telling Eight by Eight magazine that she would not go «to the fucking White House» should the US women's national soccer team win the World Cup, President Trump lashed out at her on Twitter.
«Megan should never disrespect our Country, the White House, or our Flag, especially since so much has been done for her & the team,» he wrote in a series of three tweets on Wednesday.
Trump told Rapinoe she should concentrate on winning, instead of criticizing his administration.
«Megan should WIN first before she TALKS!» he wrote. «Finish the job!»
Well, dear reader, it seems she's been doing just that.
At Friday's game in Paris, Rapinoe led the way for her squad, scoring both goals that lifted Team USA to a 2-1 victory against host nation France.
If Rapinoe was at all concerned by Trump's words, she certainly didn't show it.
She scored the first goal from a free penalty kick just five minutes into the game.
She then ran to the corner of the field and flung her arms in the air majestically in celebration as supporters in the crowd roared.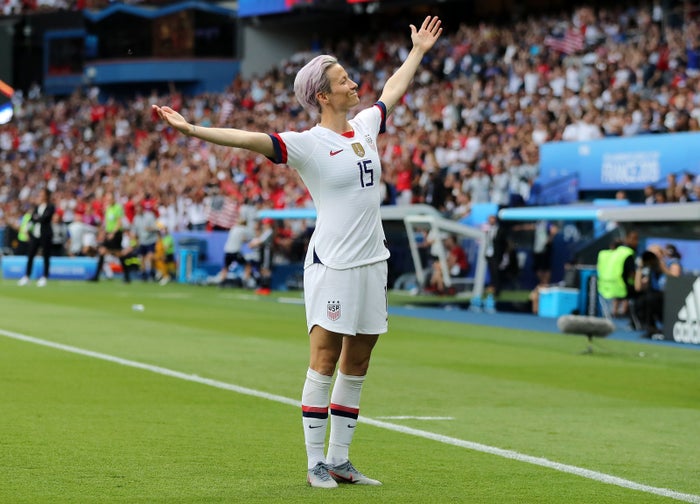 Photos of Rapinoe captured the sense of accomplishment and confidence written on her smiling face.
She was quickly ambushed by cheering members of her team, who jumped on her and hugged in celebration.
On Twitter, the USWNT said Rapinoe «is on another stratosphere right now and we're so lucky to witness it.
Franck Fife / AFP / Getty Images
The image of Rapinoe celebrating was quickly hailed online as an iconic sports photograph.
Bill Simmons at the Ringer called it one of his favorite shots of the decade.
This is one of my favorite sports pictures of this decade. Thanks for being such an inspiration to my daughter @mPinoe — you were unbelievable today.
Others were simply in awe of Rapinoe's skills/badassery.
I don't know what the female equivalent of big dick energy is, but Megan Rapinoe has it in spades.
I believe the appropriate translation for this image is COME AT ME BRO
Megan Rapinoe, that's it that's the tweet
Still, others couldn't help take the shot of a defiant Rapinoe and link it to the political drama that has followed her this week.
"behold the field in which I grow my fucks and see that it is barren" -megan rapinoe
For the rest of us non-sporting and/or lazy people, the pictures of Rapinoe swiftly became a hilarious meme.
The images went viral on Friday and Saturday as people used Rapinoe to celebrate their own lesser accomplishments.
when I get my inbox down to ten emails